When planning a wedding party, you might want to get a sweetheart table. This decor element never goes out of fashion and easily fits interiors of any style, be it an old barn or a modern loft.
From this article, you will get to know how big a sweetheart table is and why so many couples like it so much.
What is a sweetheart table?
A sweetheart table is a wedding bridal table where only the newlywed couple seats. All the guests of the ceremony can be seated at one big table or around several smaller ones. But the bride and the groom might want to enjoy greater privacy and get a small table just for the two of them.
They can place their table in the center of the room so that everyone can see them. Otherwise, they might put it in a beautifully decorated corner where the waiters won't disturb them too frequently. Both options will look incredibly sweet and romantic.
The only shortcoming of such an approach to wedding design is that it prevents the newlywed from joining the general conversation. Some couples might prefer to stay together with the attendants. In all the other aspects, that would be a superb design solution for your big day!
Sweetheart table sizes and shapes
To learn the size of a table, you should specify its shape.
Usually, the size of the sweetheart table is 3ft or 4ft, if it is round. Such a size guarantees maximum intimacy — but at the same time, you will be able to put a decor item in the center.
Photographers adore round-shaped tables because they enable them to create perfect shots. The bride and the groom look each other in the eyes and there are no unwanted items in the background. You might want to get such a table only for the sake of pictures!
On a half-moon-shaped table, you will have more room for decorations. Besides, the couple will be facing the guests. The size of such a furniture item is half 5ft round.
The square wedding table size is normally 4ft. You can add two more chairs to it so that your parents or siblings can join you.
Other types of wedding tables and their dimensions
Don't forget that couples also need multiple tables for the guests. Let's talk briefly about the dimensions and advantages of diverse furniture items, starting with head tables.
This is a highly popular solution for groups of up to 12 people, who will be seated on one side. Such a piece of furniture should be 2.5' wide and 24' long.
The size of each one should be 2.5' wide and 12' long. Each item should be able seat up to 6 people in a straight line. You can place one on either side of your sweetheart table to add symmetry to the premise.
If you opt for a piece of furniture that is 5' wide and 24' long, it should seat a maximum of 26 people. It is a relatively new design trend that is rapidly taking off. Some couples say that it helps them to create a less formal atmosphere at their events.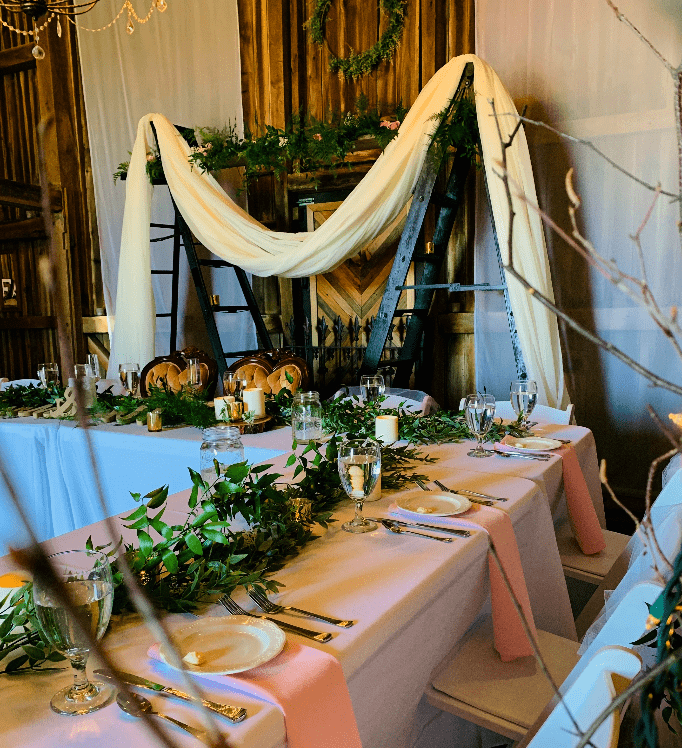 Such a piece of furniture can seat up to 16 people. If needed, you can easily find space for extra seats. This table should be 2.5' wide and 20' long, with a 6'x2.5' banquet table extending forward from either end. Such a shape enables the guests to see the newlywed very well.
You will probably need to choose from 6', 5' or 4' options. Such furniture items can comfortably accommodate up to 10, 8 and 5 people, respectively.
Now, let's focus on rectangular tables, known as banquet tables. You can put buffet lines on them or your guests can leave gifts on them. Plus, you might need such a table if you invite a DJ. Currently, one of the hot design trends is combining rectangular banquets with round ones. This adds diversity to the room and makes it look more Instagrammable.
Usually, it would be 30" wide and 6' long. Some people call them "90×132" because the distance from the ground to the surface is 30". Such a table will accommodate from 6 to 8 people. Three guests can take a seat on each side plus one person on each end.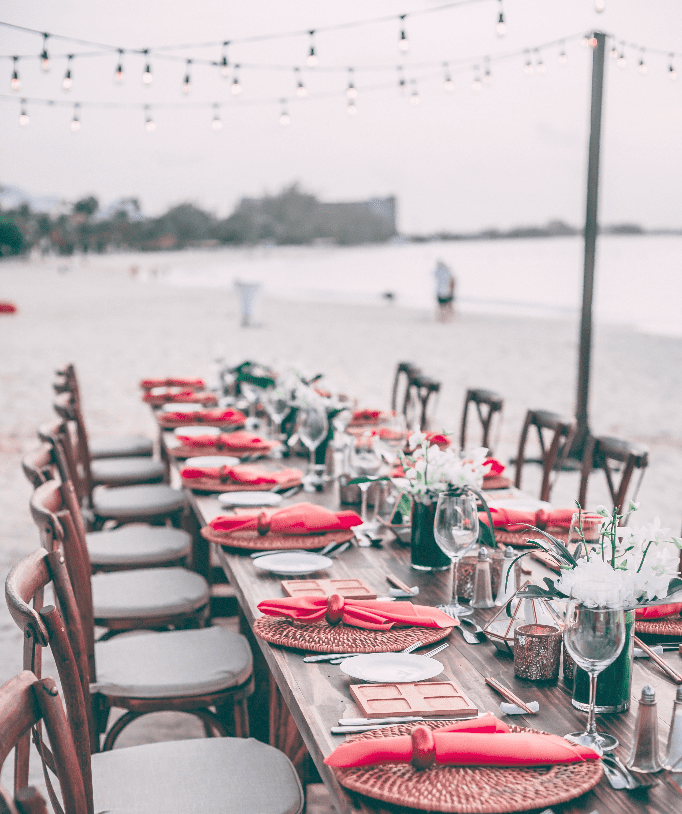 These are 30" wide and 8' long. They are also dubbed as "90×156" — because, as you might guess, the distance from the ground to the surface is 30". Here, you can seat 4 guests on each side plus one on each end (up to 10 people in total).
Apart from savoring delicious meals, your guests will be sipping cocktails. For this, they will need cocktail tables. These can be either high or low.
Their height is 42" and their diameter is 36". You can put up to 4 chairs at such a table — but this is optional. High cocktails tables perfectly double as cake tables. If you put your cake there, it will become the primary focal point of the event!
Their diameter is just the same, 36". Their height is 30". The smallest items are 30" high and the diameter is 30". Again, you can seat up to 4 guests here — or, well, a maximum 5. By the way, such a piece of furniture might easily become your sweetheart table!
One of the key attractions of the big day is a wedding cake, so dedicate a special place to showcase it. Cake tables are usually 3ft low round, but there are no strict rules. Choose the best-fitting size and decorate it with tablecloth, flowers, candles, etc.
Final Thoughts
It's important to know the sizes of the furniture items to plan your decorations wisely. When booking a venue, discuss with its team in advance where they will recommend you how to put your wedding tables. Most likely, they will offer you several stunning decor options for it too.
A sweetheart table will enable you to take amazing photos and enjoy a bit of intimacy at an event where (as funny as it might sound!) you will hardly have a spare minute for each other.
Hopefully, this article came in handy and now you know everything about the wedding tables.